The future of Web Content Management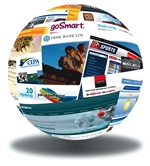 Manage your web. Your way.
Communicating on your company website and intranet website is key in today's business environment. Content is gold together with a Web Content Management System which is secure, fast, reliable and flexible. Dynamic Work's Web Content Management System (DWCMS) is customised for our customers' specific needs and offers superior performance, security and ease of use. The system can easily be extended to meet any business needs with the ability to manage specific content types such as e-commerce, travel websites and online product catalogues, for example.
DWCMS allows you to manage your content and usage across your Website, Intranet, Extranet or Portal. Text, documents, media and virtually any type of content can be securely shared across your organization, your partners or clients through a web-based environment that reflects your brand.
DWCMS and DWCRM integration
DWCMS is one of the world's first Web Content Management Systems with the ability to be fully integrated with our world-class Customer Relationship Management System, DWCRM. Using the unique features of the Dynamic Works solutions suite, we offer businesses the ability to tap into their own knowledge base such as customer profiles, website statistics, social media activity, product and service usage, buying patterns, customer service response, customer-vendor and partner relationships, allowing you to constantly assess the real needs of your business and formulate targeted marketing campaigns on your product, service or brand.
Intelligent Analytics