Dynamic Works was named by the European Business Awards as Europe's One to Watch!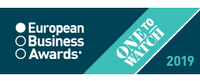 In one of the world's largest and longest running business competitions, published by the European Business Awards, Dynamic Works was recently named as 'One to Watch' in Europe in a list of business excellence.
Dynamic Works was selected in the category of THE AWARD FOR GROWTH STRATEGY OF THE YEAR on the merits of demonstrating exceptional achievement and reflecting the awards' core values of innovation, success and ethics.
Dynamic Works incepted in 2003, is one of the first companies to introduce a CRM for the Financial Industry to the market in 2011. The solution, named Syntellicore, has evolved into a powerful integrated, all-in-one CRM, Back Office, Traders' Room and Multi-tier IB System for Brokers. Syntellicore is now used by Brokers in 5 continents. Syntellicore's core strength being its innovative structure, it provides an unprecedented solution in both adaptability, customisability, scalability and flexibility according to the users' needs.
With the launching of Syntellicore, Dynamic Works has been enjoying an organic growth internationally that was the result of a well-targeted strategy. A strategy that has brought solid success. The growth and success of the company are also attributed to the company's backbone which is its staff, the adaptability to the industry trends, and being focused on a flexible business plan.
Dynamic Works' continuous interaction with clients and partners, allowed the company to evolve and set the bar higher, always focusing on improving the experience of the product's users and continually seeking new technological breakthroughs.
"Dynamic Works is really proud to be recognized as one of the Best Companies in Europe by the European Business Awards. Our Company's change of strategy in the last couple of years led to substantial growth. It's great that our efforts are being recognized by an esteemed institution." said Angelos Gregoriou, CEO of Dynamic Works.
Adrian Tripp, CEO of the European Business Awards, said: "The companies chosen as 'Ones to Watch' are the most inspirational, successful and dynamic in Europe"
He continued: "The talent and tenacity at the heart of these businesses creates jobs and drives Europe's prosperity. This 'Ones to Watch' list of excellence is a benchmark of success for the rest of the European business community."
Dynamic Works, over the next years, anticipates to see substantial growth in opportunities, related to technological advances for the Financial Industry.
Dynamic Works was selected by the European Business Awards as one of Europe's finest.