Dynamic Works wins Most Innovative Technology Platform Award 2020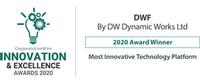 Dynamic Works is once again recognised for its powerful and innovative technology framework, DWF, this time by the prestigious Corporate LiveWire Innovation and Excellence Awards 2020
DYNAMIC WORKS received yet another award for its innovation and powerful solutions. The highly-respected Corporate LiveWire Innovation and Excellence Awards has bestowed upon the prestigious SaaS company of Cypriot origins the award of the Most Innovative Technology Platform for the year 2020. This is yet another global award that recognises DYNAMIC WORKS' efforts to be at the forefront of innovation and cutting-edge technology solutions.
More specifically, the Corporate LiveWire acknowledged DYNAMIC WORKS' efforts and accomplishments to develop their own innovative technology framework, DWF, which is ideal for rapid web application development as well as flexible and customizable business management application development. DWF provides a complete and scalable solution that connects the user's world (front-end web application) with the insights of a business and integrates it with virtually any global brand name database. The DWF is the technology platform upon which DYNAMIC WORKS's Syntellicore, one of the most powerful customizable front/back-end solutions in the financial industry was built. Syntellicore integrates client information and brings together all aspects of client and partner engagement and retention from lead and opportunity management, support, intelligence reporting and beyond.
Time and again, DYNAMIC WORKS proves that it is an innovative force to be reckoned with, with both its powerful and innovative services and its scalable and fully-customisable platform. It wasn't too long ago that the company has also been named the National Winner in the category Award for Growth Strategy of the Year by the European Business Awards and has also been listed in Europe's Ones to Watch.
"It is always a great honour" Angelos Gregoriou, CEO of DYNAMIC WORKS, stated, "to receive such respectable distinctions from global organisations, like Corporate LiveWire. However," he continued, "the highest honour of all is to be acknowledged and respected by your own clients from all around the world; to see, year after year, exponential growth that it is based on the product and the support you provide. This is what the whole team at DYNAMIC WORKS strives for every single day with not only our flagship offering, Syntellicore but with all our solutions."
In addition to Syntellicore, that is recognised as one of the world's most powerful solutions for the financial industry, DYNAMIC WORKS has also launched another vertical holistic solution, DW PRM. DW PRM is an enhanced mobile-enabled tool with real-time scheduling with direct data delivery that supports the entire planning and management of busy airports' passenger-centric operations. DYNAMIC WORKS has also developed an online web application that can give air travelers negotiating power over fare costs by grouping them together by destination and dates of travel as well as the multi-awarded BookYourWeddingDay.com.
Dynamic Works is once again recognised for its powerful and innovative technology framework, DWF, this time by the prestigious Corporate LiveWire Innovation and Excellence Awards 2020