World class excellence for Dynamic Works with ISO 27001 Certification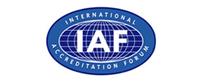 Dynamic Works, a leading provider in Web, Intranet, Extranet, CRM (Customer Relationship Management) and Business Management solutions across an ever growing range of industry segments, it has been formally awarded ISO 27001:2005 Certification by one of the top certification bodies in the world, IAF. The ISO 27001 certification was awarded following a rigorous auditing process and means the company has been independently certified and awarded the internationally recognised highest information security standard.
Since its inception in 2003, Dynamic Works has grown to become a reliable 'world-class' partner for organisations wishing to utilise proven state of the art technology. The certification with this internationally recognised security standard demonstrates Dynamic Work's commitment to the professional management of information security, including providing the highest level of control for risk management and customer data protection.
According to a report issued by ACNielsen, there are 5,797 companies certified for ISO 27001 in 64 countries. The International Standards Organization (ISO) creates stringent and rigorous standards that specify worldwide requirements for products, services, processes, materials, and systems. ISO 27001 is the new international standard created specifically for Information Security Management Systems (ISMS).
Angelos Gregoriou, CEO of Dynamic Works said, "We are delighted to have achieved ISO 27001 throughout our company's operations, as it represents confirmation of Dynamic Work's world-class information technology credentials. We provide highly secured managed services to some of the largest local organisations, as well as abroad, and we continue to work hard to ensure we not only meet the most stringest security requirements of our clients, but that we also foster a "security culture" within Dynamic Works. ISO 27001 Certification is very important to us as it demonstrates our commitment to protecting our customers' valuable information assets by maintaining the most stringest procedures governing security, resilience and business continuity."
Mr. Gregoriou continued, "Increasingly companies are now required to achieve or maintain compliance with information and data security standards. Many organisations are keen to do business with a service provider that has a certified system already in place. Dynamic Works is delighted to be in a position to offer our clients the highest security and quality standards."
One of the Few Companies to Receive Esteemed Certification of ISO27001 International Security Standard.