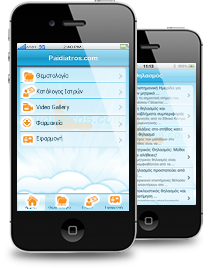 Over 8,000 parents have already downloaded the application.
Dynamic Works today announced the introduction of the first iPhone application for Cyprus' leading online child health portal, www.paidiatros.com .  The application was created specifically for the iPhone to allow parents, medical professionals, and health professionals, to have instant access to the website's rich medical content.  The move follows a series of custom-built functionalities by Dynamic Woks for www.paidiatros.com including a complete revamp of its website in 2011 with custom colour design concept, interactive audiovisual capability, integration with the website's social media platforms,  the introduction of the only e-medical record for parents as well as medical professionals, the ability to engage with the website's medical team instantly, and a live feed to your closest pharmacy.
The application in its initial form allows parents as well as health professionals to pull knowledge and inspiration for a variety of resources whether it's the website's rich thematology from leading child health medical professionals, the ability to view interactive audio and video content featuring over 100 educational videos split into user-friendly categories,  as well as the ability to locate and interact with all medical professionals listed on the website or find you closest overnight pharmacy.
Dynamic Works' significant contribution to www.paidiatros.com through technological innovation has led to the health portal becoming the leading online child health portal in Cyprus, with over 40.000 monthly unique visitors and over 25.000 subscribers to its newsletter.  2013 will see even greater innovation with further mobile applications for smartphones, an interactive blog site, and complete integration into the website's Facebook, Twitter and You Tube pages, all designed to provide an easy-to-use audiovisual and interactive experience for each user.
Dr. Adamos Hadjipanayis, Head of the Medical Team for www.paidiatros.com, said:  "Our new iPhone application provides a milestone for www.paidiatros.com as it allows mobile access for our readers from wherever they are.  We are delighted that an overwhelming 8,000 parents have already downloaded the application and we remain committed to further updates through our dedication to strive to be a critical resource for the Cyprus parent community."
Mr. George Georgiou, Managing Director for Dynamic Works, said: "This application is unlike anything on the Cyprus market and we are delighted to have been part of the team that now offers a unique mobile tool for www.paidiatros.com   Our goal was to build a smart and powerful tool where inspiration can strike anywhere at any time and with the ability to capture the moment due to the medical team's commitment to provide immediate and consistent engaging content.   We've strived to be a critical resource for online readers when searching for innovation and quality, leading to Dynamic Works becoming a leader in mobile working for Cyprus as its market continues to grow."
Since the 2008 launch, iPhone applications continue to be at the forefront of technology.  According to Greg Joswiak, vice president of iPhone marketing, as of March 2009, users have now downloaded more than 800 million applications from the App Store.  All online readers of www.paidiatros.com can now download the application for free from the App Store by simply inserting the keyword «paidiatros» or «dynamic works».
Dynamic Works Mobile Working:  The iPhone application for www.paidiatros.com  is the latest in a series of technology firsts for Dynamic Works including the release of the innovative iPhone application for MisterHire.com, allowing you to search for the best deals for car hire directly from you iPhone, for over 30,000 locations worldwide and in 170 countries.  The application features instant access to over 550 suppliers, a comparison of at least 25 car rental companies per location, interactive maps, secure online transaction capabilities, instant car hire confirmation to your app and email address, the ability to easily view, amend or cancel a booking directly from your iPhone, as well as customer support services from wherever you are.
Dynamic Works today announced the introduction of the first iPhone application for Cyprus' leading online child health portal, www.paidiatros.com.