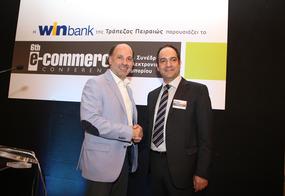 For the second year running, Dynamic Works supported the 'hottest' eCommerce event of the year, organized by IMH at the Hilton Cyprus, Nicosia yesterday. There's nothing more exciting than seeing new eCommerce companies completely change the way people think about purchasing experiences, with Cyprus' merchants, developers and programmers all under one roof offering retailers the opportunity to interact with experts in the field, and giving everyone a chance to experience the online retail world at the click of a button and obtain new ideas.
Dynamic Works, founded in 2003, talked the success of the eshop in deploying digital business 'hands on' with a live audience demonstration of its own eCommerce solution xSelio, that has dramatically reduced barriers to entry for small and medium sizes businesses that operate in the retail sector since its launch in 2013.
The more accessible, consumer friendly and intuitive storefront xSelio is different from other eCommerce solutions in the market in that it provides a fully developed eCommerce website, with a plethora of securely hosted eCommerce tools including the possibility for your own dedicated website, your own domain name, a secure shopping cart, product catalogue, payment gateways such as JCC, Customer Relationship Management, reporting, and world-class marketing tools - at a price that is drastically less expensive to launch & maintain than is currently available in the marketplace.
What was previously a complex and costly solution, xSelio has delivered on its promise of what it set to do since its launch last year - provide any business or individual with the capability to own his own dedicated e-shop within minutes and with only a monthly subscription fee of €47. 
The presentation contained a completely interactive session during which a member of the audience, Mr. Chrysostomos Meliniotis volunteered to go on stage and setup his company's eShop in 5 minutes. Dynamic Works awarded an eShop to Mr. Meliniotis totally free of charge for a whole year.
Dynamic Works also announced the new xSelio Facebook competition that will lead to the award of one more eShop to another lucky company. Try your luck at https://www.facebook.com/xseliocom?id=312787545530410&sk=app_658302004210499
What came out of today's conference was that 'eBusiness means Business'!  To find out how you can create your own eBusiness strategy and for further information on xSelio's products and services, call us for your free 30-day trial on 8000 1333 or visit www.xselio.com.