Create NOW a Professional Quality Broadcast & Live Streaming to YouTube
29 Oct 2015
All you need is a Google Account!!!
Are you looking for an easy and fast way to broadcast live your big event on YouTube?
Here is a step by step guide for live streaming on YouTube!
First of all, before you start streaming on YouTube, you have to download an encoding software that will allow you to capture content from your desktop, a camera, even a microphone, and send it for Live Streaming on YouTube Live to be seen by your fans.
In this article, we are going to use "Xsplit" www.xsplit.com/youtubelive/signup?app=xbc, a revolutionary audio/video mixing application that allows you to create professional live broadcasts and video recordings, verified by YouTube.
Here's what you need to get started: A YouTube Account, a FREE Xsplit Account and to download and install on your computer the Powerful Xsplit Broadcaster!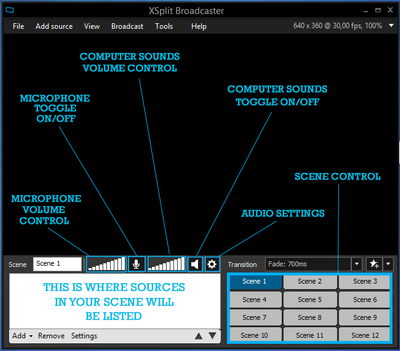 Now let's set up our stream channel!!!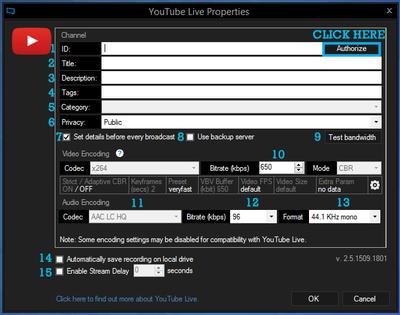 Click on --> Broadcast --> YouTubeLive
First things first, click on "Authorize" for YouTubeLive Authentication and Permissions!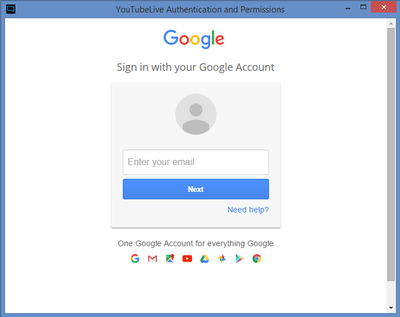 ID: Once you accept the terms and conditions, your YouTube ID will be autocompleted.
Title: Input your Video Title.
Description: Add a short description of your video.
Tags: Select tags that will help users to find your video when they search the site.
Category: Select a Category to assign to the uploaded video. The category will assist YouTube visitors in the category to find the video.
Privacy: Choose who can see your video.
Set details before every broadcast: By checking this box you can edit all the above details, every time before a broadcast.
Use backup server: By checking this box you can use a backup server.
Test bandwidth: Click here to test ingestion server speed.

Video Encoding
Bitrate: This is the bitrate of your video, and directly relates to your upload bandwidth.

Audio Encoding
Codec: If you are a licensed user, you definitely want to use "AAC-LC". This selects the audio encoding method to be used on your stream. If you are using the free version of XSplit, you will be limited to "Speex".
Bitrate: It depends on the content of your stream and how important audio quality is to you, but in almost all cases "128000" is fine. This is 128kbps.
Format: We recommend "44.100 KHz 16 bit stereo". If you know what you're doing, feel free to change this.
Automatically save recording on local drive: Check this box if you want to save your recording on your drive.
Enable Stream Delay: if you are a licensed user, you can choose if you want your recordings to have delay.
If you have everything setup, click "OK"
What about Add Sources? We have our channel all set up and ready to stream, but what? Let's see how we can add some Add Sources step by step.
Click "Scene Sources" in the bottom left of the main XSplit window.
At the bottom left of scene sources you will see "Add", "Remove", and "Settings". This is how you will manage your sources. Click "Add", and you will be presented with a drop-down box with some options.
Add Camera - Add a camera source. Note: It's also where you would add a DXTory source if you are using it as a "hook" source for your games. For this you will also need a USB Video Grabber in order to convert analogue video to digital.
Add Media File - Add single picture, video or sound/music files with this choice. Some files that can be added to your presentation are .mp3, .wmv, .jpg, .flv, etc.
Add Screen Region - Add a screen region. A screen region is an area of your desktop. To add your whole desktop, just click any blank space on your desktop, and the full desktop will be added.
Add IP Camera - You can add an IP camera, which is a camera that is linked to an internet feed. Most people don't have one of these, and will just use "Add Camera" to add their webcams.
Add Video Playlist - If you have multiple videos and you want them to play one-after-another, this is where you add them. There are quite a few features, so play around with it.
Add Title - This is a basic text title. It also has a scrolling effect that can be used. Example: "BRB in 10 minutes" can be added on your stream, even scrolling across the screen if you like.
Add Livestream - You can add another livestream as a feed directly on your stream. Make sure you have access to the content you are adding so you don't run into copyright infringement.
Add Game - If you have Game Source enabled, you can directly add a game. Game Source has some pro's and con's vs Screen Region. Screen Region is lower on resources (less lag), but can do only a maximum of 30fps. Game Source in some cases can result in a bit of lag, but can also do up to 60fps as a source, and also typically has higher quality image than Screen Region.