Want to be part of a creative, growing and dynamic team? Do you believe you have what it takes to add to our success? Are you a person that makes things happen?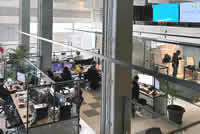 If your answer is 'Yes', we want to talk to you. Dynamic Works provides an open and fun culture that uniquely talented technologists find rewarding.
We pride ourselves in blending a high degree of autonomy with the support and collaboration you need to do the job. We value unique thought, creativity and exceptional problem-solving skills in all our team members.
Come show us what you have to offer and we'll show you how to succeed as part of an exciting, growing team. on our competitive advantage to our customers, delivering real value and bringing growth to their business.
The Web Developer will be designing, developing, testing and implementing solutions using Dynamic Works DW Framework (DWF).
The Developers will be developing and implementing solutions mainly for the Financial Sector using Dynamic Works Framework (DWF).
The Database Developer will be responsible for designing tables, SQL queries, stored procedures, views, functions and reports.